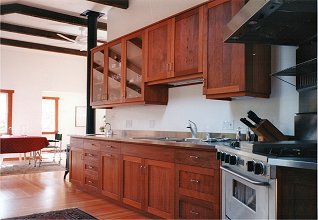 We moved to Mendocino in the 1970's, opening our woodworking shop in 1979. We were inspired by a family tradition of fine wood work that goes back for many generations. As new projects succeeded older ones over the years our business flourished. Now, as a son becomes an equal partner, a new generation steps up and our family tradition carries on.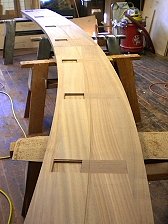 As mindful as we are of traditional considerations we also try to stay attuned to the latest trends in technology and design. We have been fortunate to work with some great people along these lines, many of them here on the North Coast.
Whether you need a window seat, or a houseful of cabinetry, we are completely familiar with handling projects of any size. We work with architects, designers and contractors, or directly with home and business owners, to insure our work is done to specification, within budget and on time. We also offer complete design services, creating needed architectural drawings, and can create cabinetry in any style and finish you desire. While cabinetry is our mainstay, we also make tables, custom beds, hutches, benches and even yacht interiors, as well as architectural mill work like doors, arches and paneling. Generally speaking, if it is made of wood, we'd probably like to build it.
Many of our happy customers are also friends and neighbors who share this lovely patch of earth on the Mendocino Coast.